The Spirit of Kuala Lumpur Virtual Marathon 2020
Date & Time
Now till 30 September 2020 / Anytime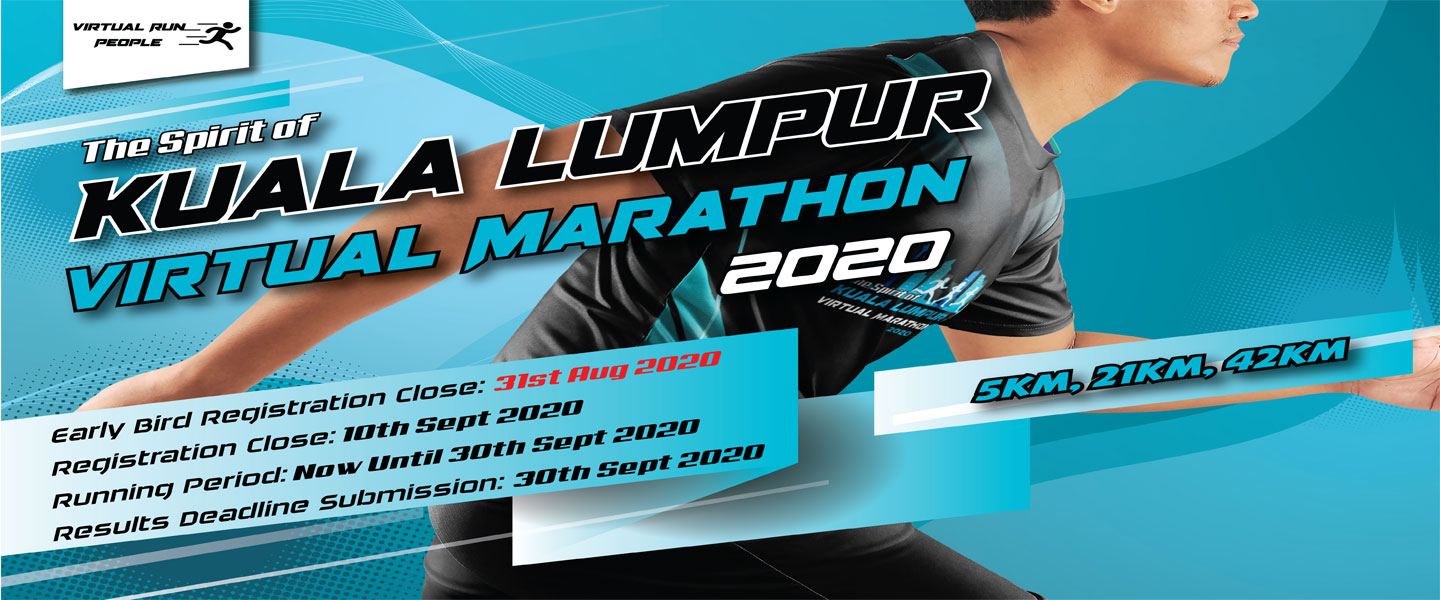 The Spirit of a city comes from the people, her culture or even her history. In this Spirit of the City virtual run series celebrates the spirit of the city through her architecture. The landmarks that makes the city unique.

The Spirit of the Kuala Lumpur Virtual Marathon celebrates the various landmarks of Kuala Lumpur that makes it uniquely KL. The Petronas Twin Towers being the tallest twin structure in the world, heads the list. Standing at the foot of the Petronas Twin Towers at night is a really an experience you cannot forget.

The KL Tower is another landmark that many can recognise in Kuala Lumpur. You will be rewarded with fantastic view of the city of Kuala Lumpur if you go up to her viewing deck or have a meal at her revolving restaurant.

You will get these entitlements mailed directly to your doorstep:
1. Finisher Metal Medal
2. Dry-fit Finisher Shirt
3. E-Certificate which will be emailed to you

Running Distance – 42km, 21km or 5km
Early Bird Registration Close – August 31st 2020
Registration Close – Sept 10th 2020
Running Period – now until Sept 30th 2020
Submission Deadline – Sept 30th 2020
Location – Any time Anywhere at your convenience

=====

What is a Virtual Run?
A virtual run is a race that you can complete at your own pace and time.

Virtual running works exactly the same as any other type of running but the difference is that the entered race can be run at any location, either outside or inside on a treadmill.

All you have to do is register for a race and provide evidence that you have done it. The evidence can be a screenshot of your running app, a photo of the treadmill screen etc. Once this is done, the entitlements will be mailed to your address.
Categories & Fees
West Malaysia Address

5km (5km)

Fees shown Subject to admin fee

5km

RM 64.00

RM 74.00

21km (21km)

Fees shown Subject to admin fee

21km

RM 69.00

RM 79.00

42km (42km)

Fees shown Subject to admin fee

42km

RM 74.00

RM 84.00

Sabah/Sarawak Address

5km (5km)

Fees shown Subject to admin fee

5km

RM 69.00

RM 79.00

21km (21km)

Fees shown Subject to admin fee

21km

RM 74.00

RM 84.00

42km (42km )

Fees shown Subject to admin fee

42km

RM 79.00

RM 89.00

Singapore/Brunei/Indonesia/Thailand/Philippines Address

5km ( 5km )

Fees shown Subject to admin fee

5km

RM 104.00

RM 114.00

21km (21km )

Fees shown Subject to admin fee

21km

RM 109.00

RM 119.00

42km (42km )

Fees shown Subject to admin fee

42km

RM 114.00

RM 124.00
Entitlements & Other
T-Shirt
Medal
E-Certificate