Tasik Temoh Swim Fest 2023
Date & Time
24 June 2023 / 7:00am / Flag Off Time 8:00am
Venue
Tasik Temoh Tapah, Perak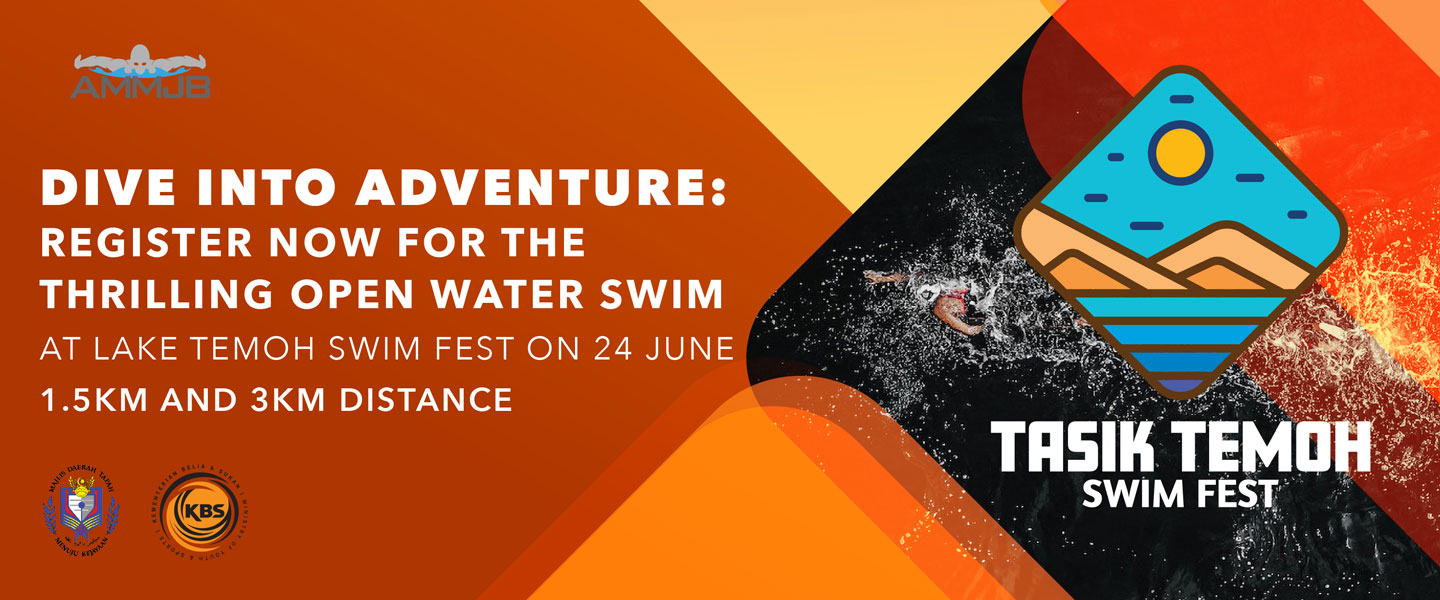 Dive into the excitement and embark on a memorable aquatic adventure at the Tasik Temoh Swim Fest. Set amidst the stunning beauty of Temoh Lake in Tapah Perak, this extraordinary event promises an unforgettable experience for swimmers of all skill levels.

Join us on the 23rd and 24th of June as we celebrate the sheer power of human determination and the wonders of nature. Whether you're a seasoned swimmer seeking a challenging competition or a passionate enthusiast looking to embrace the joy of swimming, there's something for everyone at the Tasik Temoh Swim Fest.

Choose your distance and push your limits in either the exhilarating 1.5km race or the awe-inspiring 3km challenge. Feel the rush as you navigate the tranquil waters of Temoh Lake, surrounded by breathtaking landscapes that will leave you in awe.
This event is a perfect opportunity to connect with fellow swimmers, build new friendships, and create lasting memories. With a welcoming and supportive atmosphere, the Tasik Temoh Swim Fest is more than just a race—it's a celebration of the human spirit and the beauty of our natural surroundings.

So mark your calendars and make a splash at the Tasik Temoh Swim Fest. Join us for a weekend of exhilarating swims, breathtaking views, and unforgettable moments. Get ready to embrace the water and dive into an experience like no other!

We look forward to welcoming you to the Tasik Temoh Swim Fest, where swimming dreams become a reality.

Categories & Fees
Solo 1.5km (Men / Women) Open (1.5km)

Loop Lake Swim - 1.5km distance
(Fees is SUBJECT to Admin Fee)

1.5km

RM 98.00

RM 108.00

Solo 3km (Men / Women) Open (3km)

Loop Lake Swim - 3km distance
(Fees is SUBJECT to Admin Fee)

3km

RM 128.00

RM 141.00

Relay Men 3KM (3km)

Loop Lake Swim - 3km distance
(Fees is SUBJECT to Admin Fee)

3km

RM 168.00

RM 185.00

Relay Women 3KM (3km)

Loop Lake Swim - 3km distance
(Fees is SUBJECT to Admin Fee)

3km

RM 168.00

RM 185.00

Relay Mix 3KM (3km)

2 pax
Loop Lake Swim - 3km distance
(Fees is SUBJECT to Admin Fee)

3km

RM 168.00

RM 185.00
Entitlements & Other
Finisher Medal
Finisher Shirt
Meal Voucher
Insurance
Race pack collection
Date

23 June 2023 (Friday)

Time

12pm - 4pm

Venue

Tasik Temoh

PIC Contact: 012-3915184 (Chemen)
Organiser
AMMJB Swimmers Enterprise
Email #1
ammjbswimmers@gmail.com