Around The World SOUTH AMERICA Virtual Challenge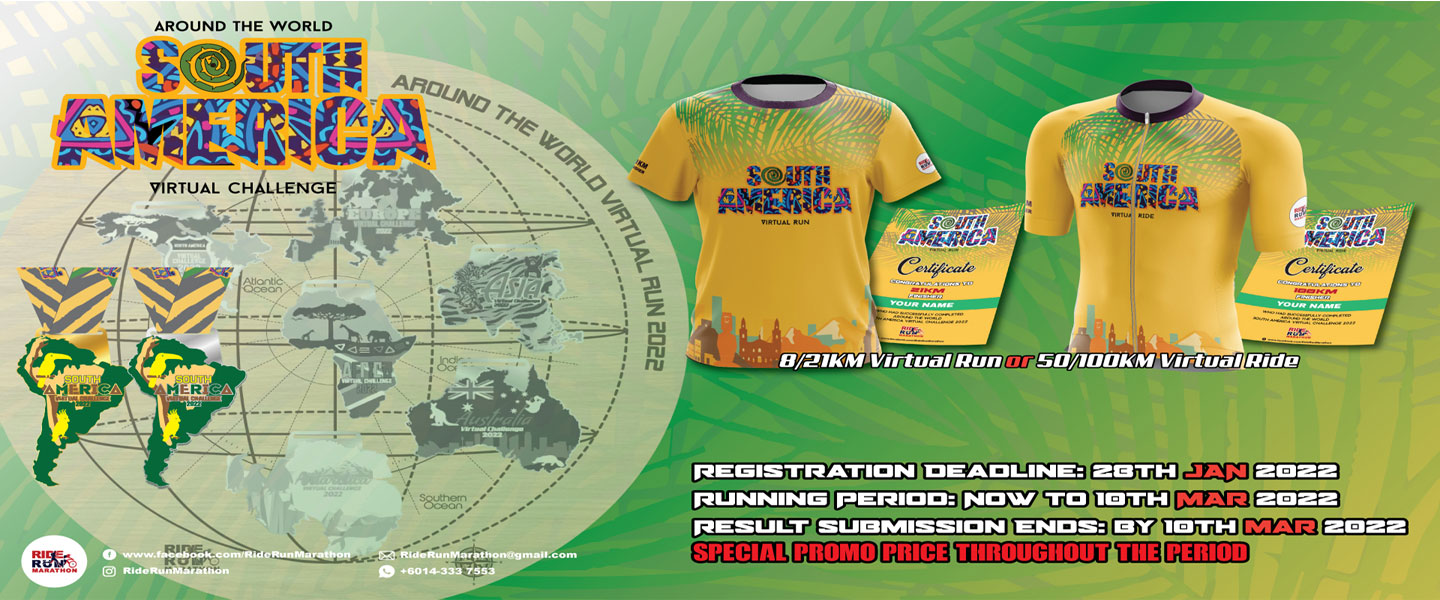 Are you ready to travel around the world?
You may ride or run around the Seven Continents to enjoy the most exciting journey. Around The World Virtual Challenge 2nd continent pit stop, 'South America'. Put on your running shoes and complete a 8km or 21km run. Otherwise, grab your bicycle and ride on the 50km or 100km challenge. Register now to experience the fitness trips and healthier body!

You will get the following entitlements delivery right at your doorsteps:
1. Finisher medal
2. Dry fit shirt
3. E-certificate

Running Distance: 8km or 21km
Riding/Cycling Distance : 50km or 100km

Registration Deadline: 16th March 2022
Running Period NOW to 31st March 2022
Results Submission ends by 16th March 2022
*Special Promo Price throughout the Period

You can run/ride anywhere at any time. The KM(distance) CAN BE Accumulated in multiple times or
at one run. You can definitely do this at home and with your love ones too.
Key Dates
Registration Deadline 16 Mar 2022
Running Period Ends 31 Mar 2022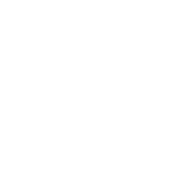 16 Mar 22'
Registration Deadline
31 Mar 22'
Running Period Ends
Categories & Fees
Malaysia Address

8km Silver Run (8km)

Fees shown Inclusive of Courier Fee excl admin fee

8km

RM 58.00

8km Silver Run (Medal Only) ( 8km )

Fees shown Inclusive of Courier Fee excl admin fee

8km

RM 35.00

21km Gold Run (21km )

Fees shown Inclusive of Courier Fee excl admin fee

21km

RM 68.00

21km Gold Run (Medal Only) ( 21km )

Fees shown Inclusive of Courier Fee excl admin fee

21km

RM 45.00

50km Silver Ride (50km )

Fees shown Inclusive of Courier Fee excl admin fee

50km

RM 88.00

50km Silver Ride (Medal Only) (50km )

Fees shown Inclusive of Courier Fee excl admin fee

50km

RM 35.00

100km Gold Ride (100km )

Fees shown Inclusive of Courier Fee excl admin fee

100km

RM 98.00

100km Gold Ride (Medal Only) ( 100km)

Fees shown Inclusive of Courier Fee excl admin fee

100km

RM 45.00

Singapore Address

8km Silver Run (8km)

Fees shown Inclusive of Courier Fee excl admin fee

8km

RM 88.00

8km Silver Run (Medal Only) ( 8km )

Fees shown Inclusive of Courier Fee excl admin fee

8km

RM 55.00

21km Gold Run (21km )

Fees shown Inclusive of Courier Fee excl admin fee

21km

RM 98.00

21km Gold Run (Medal Only) ( 21km )

Fees shown Inclusive of Courier Fee excl admin fee

21km

RM 65.00

50km Silver Ride ( 50km )

Fees shown Inclusive of Courier Fee excl admin fee

50km

RM 118.00

50km Silver Ride (Medal Only) ( 50km )

Fees shown Inclusive of Courier Fee excl admin fee

50km

RM 65.00

100km Gold Ride (100km )

Fees shown Inclusive of Courier Fee excl admin fee

100km

RM 128.00

100km Gold Ride (Medal Only) (100km )

Fees shown Inclusive of Courier Fee excl admin fee

100km

RM 75.00
8km Run
21km Run
50km Ride
100km Ride
Entitlements & Other
Medal
Dry Fit T-shirt
E-Certificate